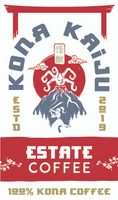 Kona Kaiju Coffee
The best coffee in the world. Grown on the slopes of Mount Hualalai on the Big Island of Hawaii in the Kona coffee belt. 
As of December 20, 2020 Kilauea is erupting again. We are safe on Hualalai as are our coffee trees. So far this eruption has not led to another siting of the kaiju of the Big Island.
You can learn more about the Kaiju of the Big Island and how it was defeated by reading Our Story, Kona Kaiju Coffee. Or skip the great story and jump right to the coffee. 
Shop now